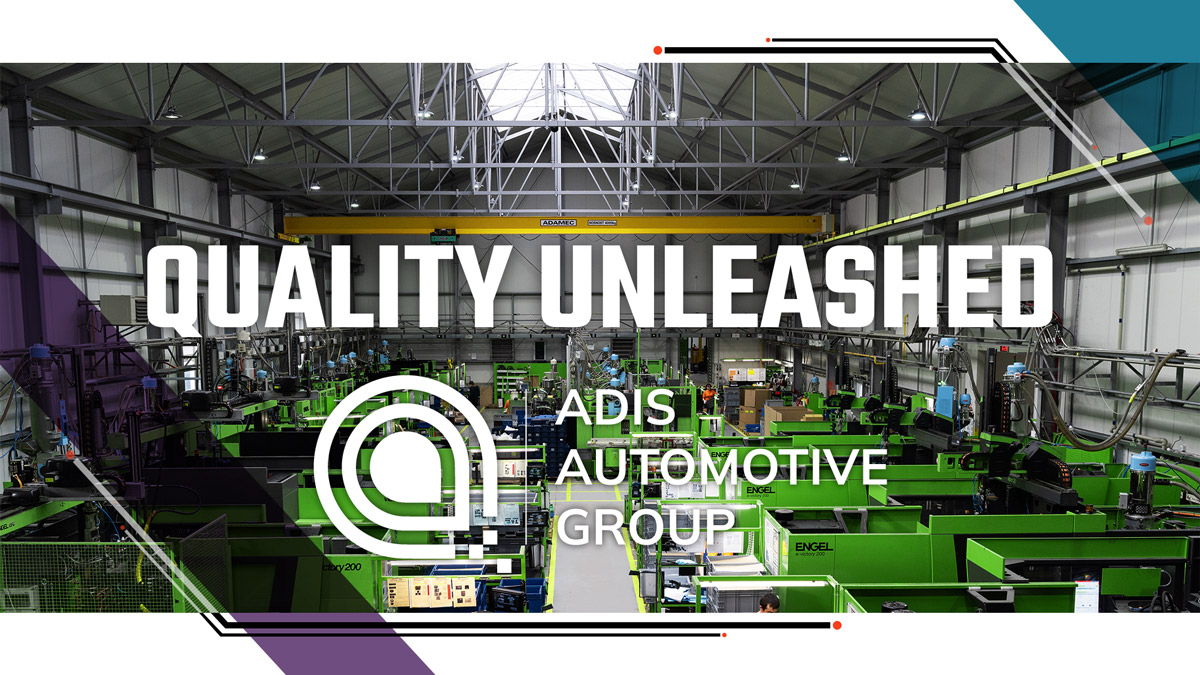 From their initial meeting ten years ago, two experts in their field have taken their extensive knowledge of an industry, combined their unique skills and foresight, recruited the right talent into the right positions, forged unbelievable relationships with some of the world's best-known brands, and are now proud owners of a group of companies who are reinventing the world of plastic injection moulding.
Businessmen and investors Jeremy Svoboda and Marc Ammerlaan are co-founders of the Adis Automotive Group (AAG) which is positioned in a very favorable environment to deliver exceptional quality products to the automotive industry globally.
Aside from the obvious economies of scale and scope that arise from connecting multiple entities, the formation of AAG in 2022 saw the two six sigma black belts bring together their existing businesses – Adis Tachov and NS Kunststofftechnik – in a way that placed them in a position of superiority over rival suppliers. By operating more than 65 injection moulding machines with clamping forces ranging from 5 to a whopping 1200 tons, the group is able to accept orders of immense scale and variety and be extremely confident of upholding their ethos of delivering exceptional quality products, on time, every time.
Jeremy explained: "we're all about creating seamless customer journeys, challenging the status quo of the manufacturing industry, and pushing the boundaries of what can be achieved from plastics". With a collective of skills and processes being merged in a way that extracts the best from every single one of them, the lean manufacturing days of seiri, seiton, and seisō are no longer silo thought paths; in AAG, they are instead components of a much bigger, more effective approach to streamlining business operations and delivering growth.
Championing both people and processes across multiple business sectors and on five continents, AAG has become the ultimate top-tier supply partner to the automotive world and with their cacophony of fail-safe processes, visual mapping, smart technology, and immense attention to detail, they have changed manufacturing for the better and have become truly sui generis.
Marc added that AAG was: "founded with the goal of doing things differently and our portfolio of world-renowned customers are testament to that ongoing success." Indeed with brands including Bentley, Mercedes, and Skoda in their order book, you can understand why Marc wished to highlight this fact and was immensely proud of it.
As a Europe-based company that lives and breathes six sigma optimization, zero-defect policies, and ultimate lean manufacturing AAG is truly a fully synchronized automotive supply group that embraces the JIT system and utilizes an array of technological initiatives to increase gross margins, manage expenses, and ultimately deliver outstanding products and services globally.
In a world where over 30% of all plastic products globally are made using the injection molding process, it's little wonder that the factories responsible for rolling out everything from bottle tops to components and fittings for the automotive industry are in high demand and set for continued growth for future decades to come.  Jeremy concluded by explaining that "Adis Automotive Group is only at the beginning of its journey. More acquisitions are already in the pipeline to further strengthen our reach and capabilities, and we believe that our motto of Quality with Integrity will hold firm and drive us forward as we continue to scale."
Find out more and get in touch via: adisgroup.eu