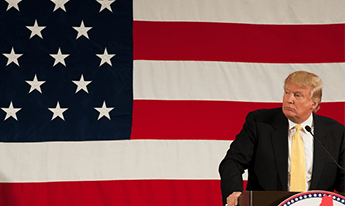 Donald Trump's decision to pull the United States out of the international Paris climate agreement severs another of America's increasingly sparse ties to the global community, and is a trigger to redouble efforts to tackle climate change in Europe, Friends of the Earth Europe has responded. The move, announced today, confirms fears that the fossil fuel industry continues to heavily influence decisions in the White House.
Susann Scherbarth, climate justice and energy campaigner for Friends of the Earth Europe said:
"Trump has cast America adrift from the global community and the reality of climate change. The fossil fuel industry and climate change deniers have set up shop in the White House, and they're putting the lives and livelihoods of millions of people on the line. This should be a trigger for increased action on climate in Europe to end fossil fuel dependency by 2030."
Friends of the Earth U.S. President Erich Pica said:
"Donald Trump is on a mission to sacrifice our planet to the fossil fuel industry. By pulling out of the Paris Agreement, Trump has turned the United States into the world's foremost climate villain.
"The rest of the world must move forward aggressively without the world's leading historical contributor of greenhouse gas emissions. Friends of the Earth U.S. calls on all nations to assert heavy economic and diplomatic pressure to compel the Trump Administration to take serious climate action to protect people and the planet.
"The majority of Americans reject Trump's extreme agenda and demand climate action. Today's announcement only strengthens our resistance."
Friends of the Earth Europe is campaigning for Europe to do its fair share in tackling climate change. This means urgently and drastically increasing current EU targets to tackle climate change and ensuring a just transition to a 100% renewable, no nuclear, super energy-efficient, zero-fossil-fuel Europe by 2030.
Friends of the Earth is calling on political leaders and movements around the globe to challenge Donald Trump and any leader intent on environmentally destructive policies. Friends of the Earth will carry on resisting racist, divisive and hateful populist political movements in Europe and beyond.