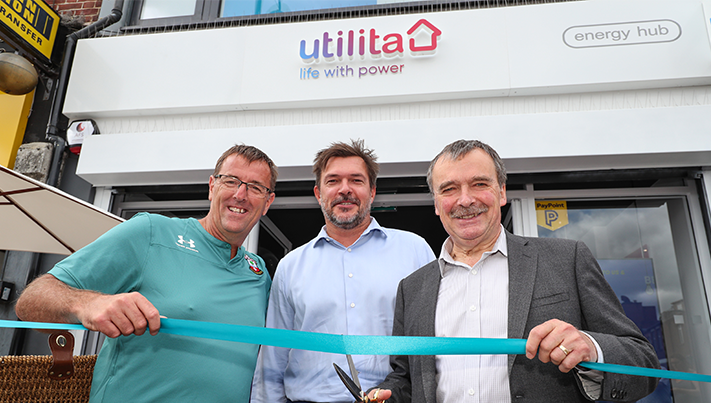 Second 'community hub' opens in Shirley, Southampton
Rising energy brand Utilita opened its second energy hub last weekend – as it leads the fight to regenerate Britain's high streets.
Utilita chose Shirley High Street for the next stage of its national rollout – this follows the success of its first energy hub which launched in nearby Gosport, Hants last July.
The supplier plans to open up to ten hubs across the UK in this next phase as it vows to be "the only energy supplier who will look you in the eye".
Utilita says the hubs offer on-going face-to-face customer service – almost unheard of in today's energy sector – as well as providing energy advice and support for vulnerable households. The hub will also provide 'community space' for local groups and organisations free of charge.
Utilita's innovative scheme comes as the high street continues to feel the pain – with a number of high profile casualties in recent months and years.
Steve Parker, Director of Retail at Utilita, said: "We've always embraced innovation at Utilita – we were the first company to install a smart meter in the UK – and we believe going against the grain by building a presence on Britain's high streets and in communities will have a long term benefit for both us and our customers.
"There are a large number of consumers who value face-to-face help and a personal touch, rather than relying on phone calls or the internet when receiving support. This is especially important for our customer base, given that we work with some of Britain's most vulnerable households who often require additional levels of support.
"In many ways, this is a throwback to the '70s and '80s when the regional utility board shops were a familiar site on the high street and anyone could pop in. Those days were seemingly over, but we want to bring energy back to the High Street – in every sense."
The new Energy Hub was officially be opened with a launch event at 7a Shirley High Street, Southampton by Dr Alan Whitehead MP at 11am on Saturday 13 July, alongside several other special guests including Sky Sports pundit and Southampton FC legend, Matt Le Tissier. The Hub will support Utilita's growing customer base and provide the opportunity for customers to get energy efficiency advice, top-up their energy meters and speak directly with Utilita staff. There will also be an interactive area for children to learn about energy.
Utilita commissioned its second annual Powering the UK High Street report in 2018 to mark the launch of its first energy hub in Gosport. The report questioned 1,000 microbusinesses in ten regions of the UK, to understand the barriers they are faced with in running their enterprises. Among the businesses taking part were cafes, pubs, restaurants, hairdressers, convenience stores and other retail outlets. The full results are available here.