Pub-goers celebrating St. Patrick's Day (17th March) are at risk of paying 65% more for a pint of Guinness depending on where they socialise, according to new research.  
The study from leading savings site, VoucherCodes.co.uk looked at the cost of a pint of Guinness within major chains (J D Wetherspoon's and Greene King, which owns Hungry Horse, Belhaven and Flaming Grill) and across independent Irish pubs in major UK and European cities. Analysing a number of venues across the UK, the findings show a steep 65% price difference between the London average (£5.02) – unsurprisingly the highest in the country – and the cheapest average pint found in Dundee (£3.05).  
JD Wetherspoon has an 87% price difference across venues analysed, when comparing the cheapest and most expensive pint. Drinkers looking for a cheap Guinness at a 'Spoons should head to The Wheatsheaf in Stoke, where a pint costs just £2.49 –  almost half the price of the same pint found in The Lord Moon of the Mall (£4.65) situated in London's West End – the most expensive venue of those in the study. 
Those looking to celebrate in a traditional Irish bar this Tuesday could be paying up to 10% more for their pint of Guinness, against the UK average. The cheapest drink of those analysed can be found at Kelly's Bar in Dundee at £3.10, unfortunately those in London will be paying 68% more in The Tipperary (£5.10).  
When looking at the average cost across each UK city, Dundee (£3.05) comes out as the cheapest city to celebrate, followed closely by Coventry (£3.18) and Glasgow (£3.26). While London is predictably the most expensive city on average (£5.02), the research reveals the other cities also charging a premium this St Patrick's Day are Edinburgh (£4.25) and Norwich (£4.10). The UK average price is £3.79.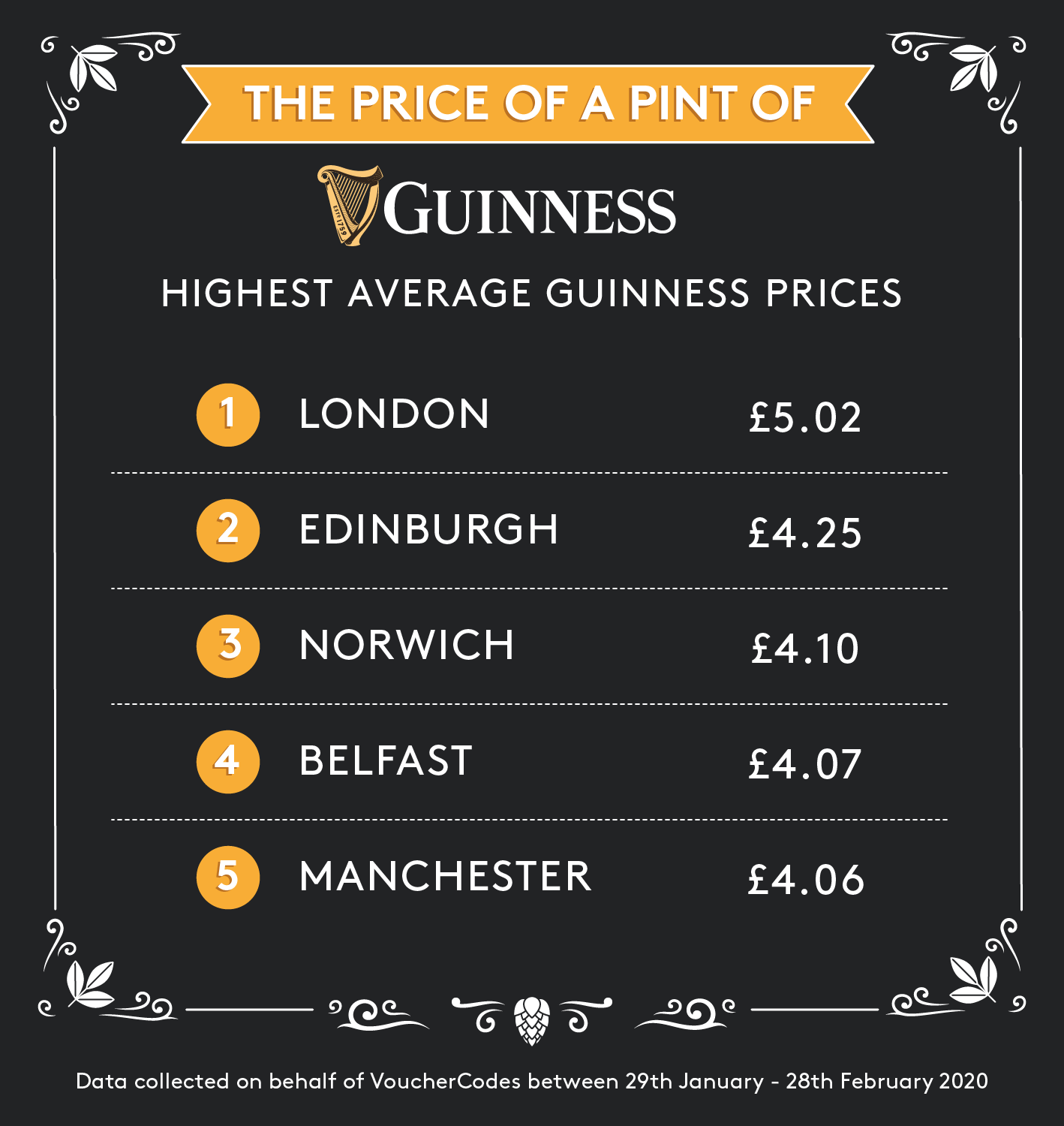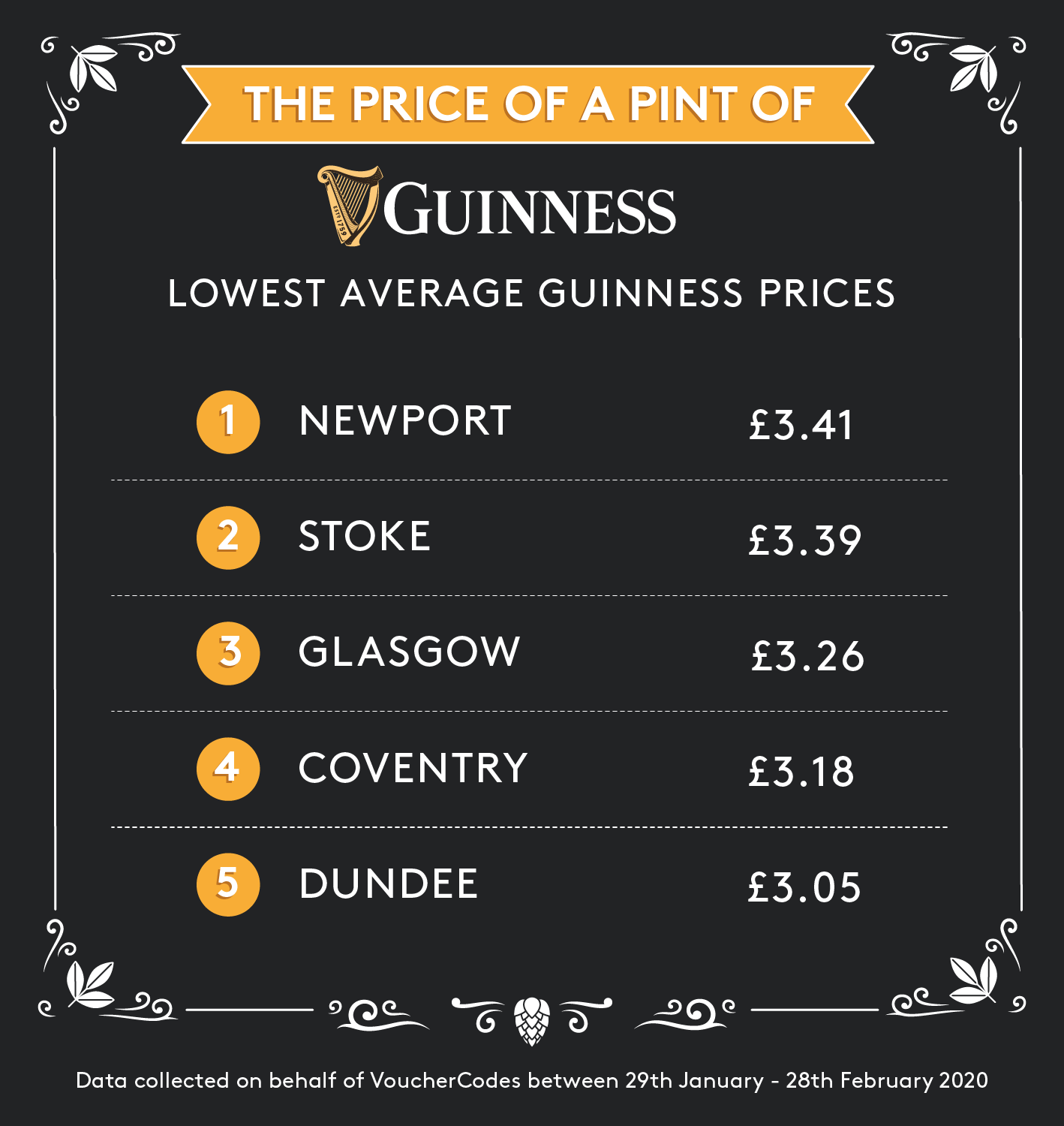 For those celebrating further afield, the study also analysed Guinness prices across Irish pubs in Europe. Prague (£3.35), Budapest (£3.84) and Berlin (£4.16) offer the best value pints on average. At the other end of the spectrum, those in Paris can expect to pay up to £6.76 per pint, £1.74 more than the highest average price in the UK (£5.02). Paris, Stockholm, Rome and Amsterdam have the highest average prices, London however, comes in fifth place, therefore Londoners can finally rejoice that they are getting a good deal.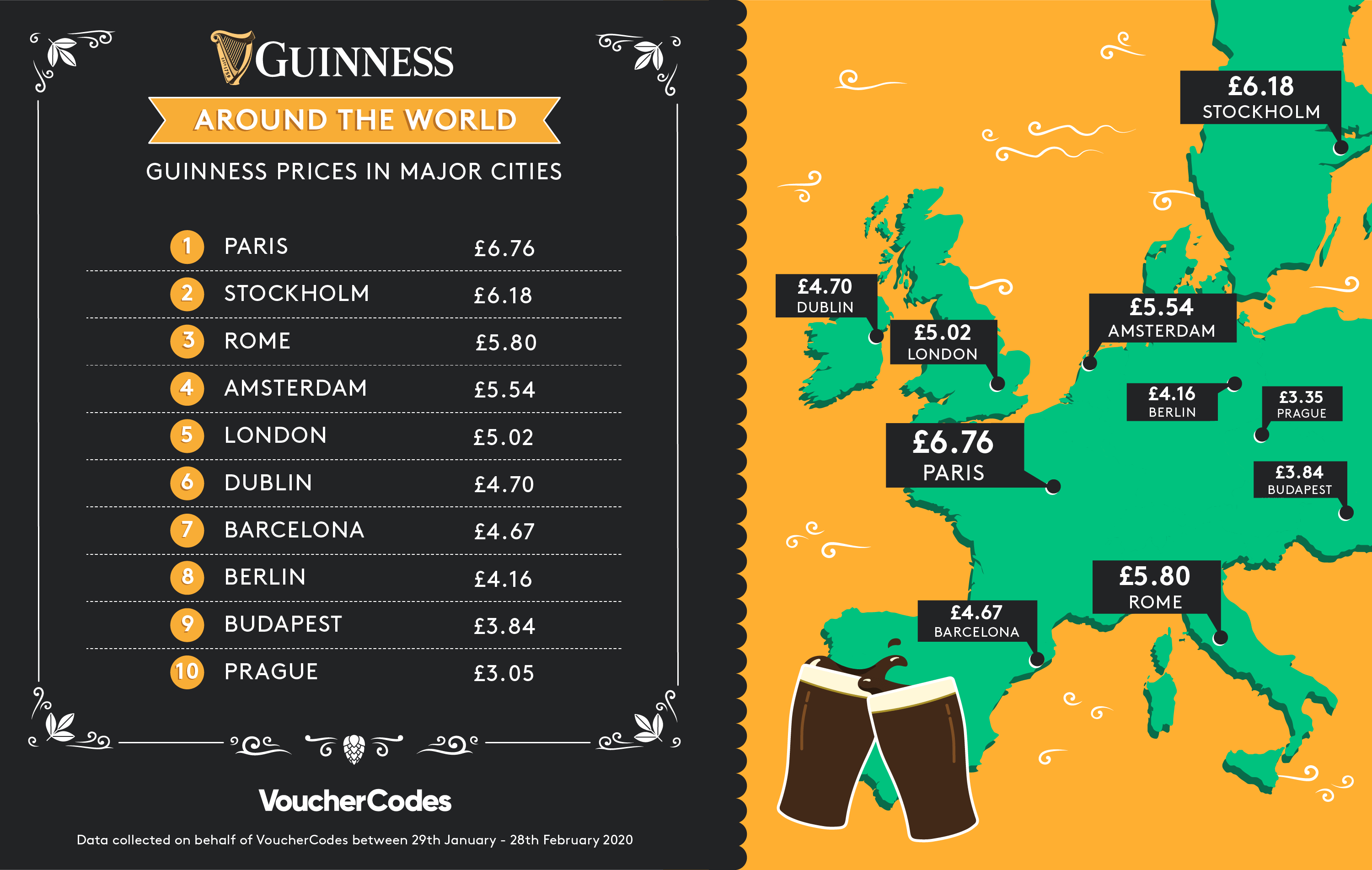 Anita Naik, Lifestyle Editor at VoucherCodes.co.uk, commented:  
"Whether you have Irish connections or not, St. Patrick's Day is one of the most popular excuses to visit your local and enjoy a cold Guinness or two with friends. However, it's alarming to see that you could be paying almost double the price for your pint in the UK depending on where you choose to go out.   
"It's easy for a big day like Paddy's Day to end up costing much more than anticipated. With prices varying so drastically across the country, it's worth pre-planning and looking into the options in your local area before you head out to make sure you're not spending more than necessary.  
"VoucherCodes has lots of great deals at Wetherspoons and Greene King to help you save a bit of cash this Paddy's Day, including a free £1 Amazon voucher. Visit https://www.vouchercodes.co.uk/guinness.com for our special Paddy's Day code"