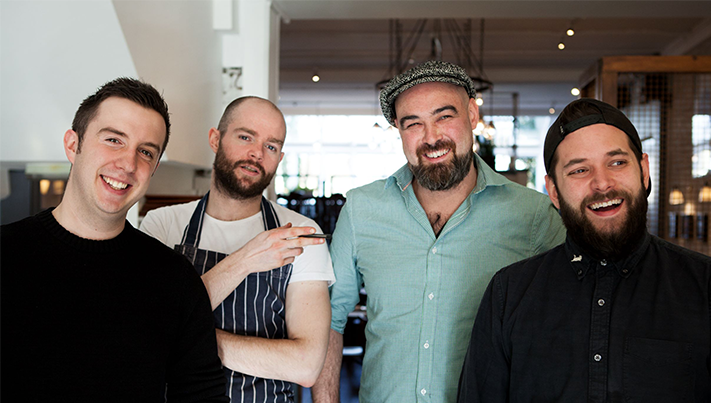 Home SW15 has been awarded one of the Good Food Guide's prestigious awards in the 2019 edition – just a year after the South West London restaurant launched.
The accolade of 'Best Local Restaurant London' is particularly noteworthy for Home SW15's owners, Craig Gordon and Head Chef Freddie Fallon, since London's vibrant restaurant marketplace is especially competitive. Craig and Freddie attribute this early success to their focus on hospitality, friendliness and great food and drink.
Along with Bar Supremo Fredi Viaud and Sous Chef Kevin Fahey, the Home SW15 team has created a consistently welcoming environment, whether for cocktails and snacks after work, lunches and dinners with friends or family, and one of the best weekend brunches in London.
Described in the Good Food Guide 2019 as a 'local gem' and 'an appealing all-day bar and brasserie', Home SW15 has become a firm favourite among locals in Putney and across London, and is increasingly gaining a reputation further afield.
The Good Food Guide's entry for Home SW15 praises the restaurant on two key aspects, stating that 'service is enthusiastic and engaging…', and '…the kitchen is noted for generosity and boldness…'
Home SW15's signature dish, shrimp burger with sriracha mayo, is a customer favourite from its modern European lunch and dinner menus. Other innovative dishes include:
– Duck rillettes with parsley, shallot & cornichon
– Chargrilled baby squid with Thai dressing
– Bavette with red wine butter and bubble & squeak
– Seared Yellowfin tuna with Chinese greens
– Cornish crab cakes with poached eggs
– Shakshuka with peppers & baked eggs
– French toast with summer fruits & maple syrup
As the clocks change and the weather improves, Home SW15 is looking to keep developing its menus, including the increasingly popular weekend brunch offering throughout 2019. See www.homesw15.com for the latest menus, or follow @homesw15 on Instagram for an inside look.