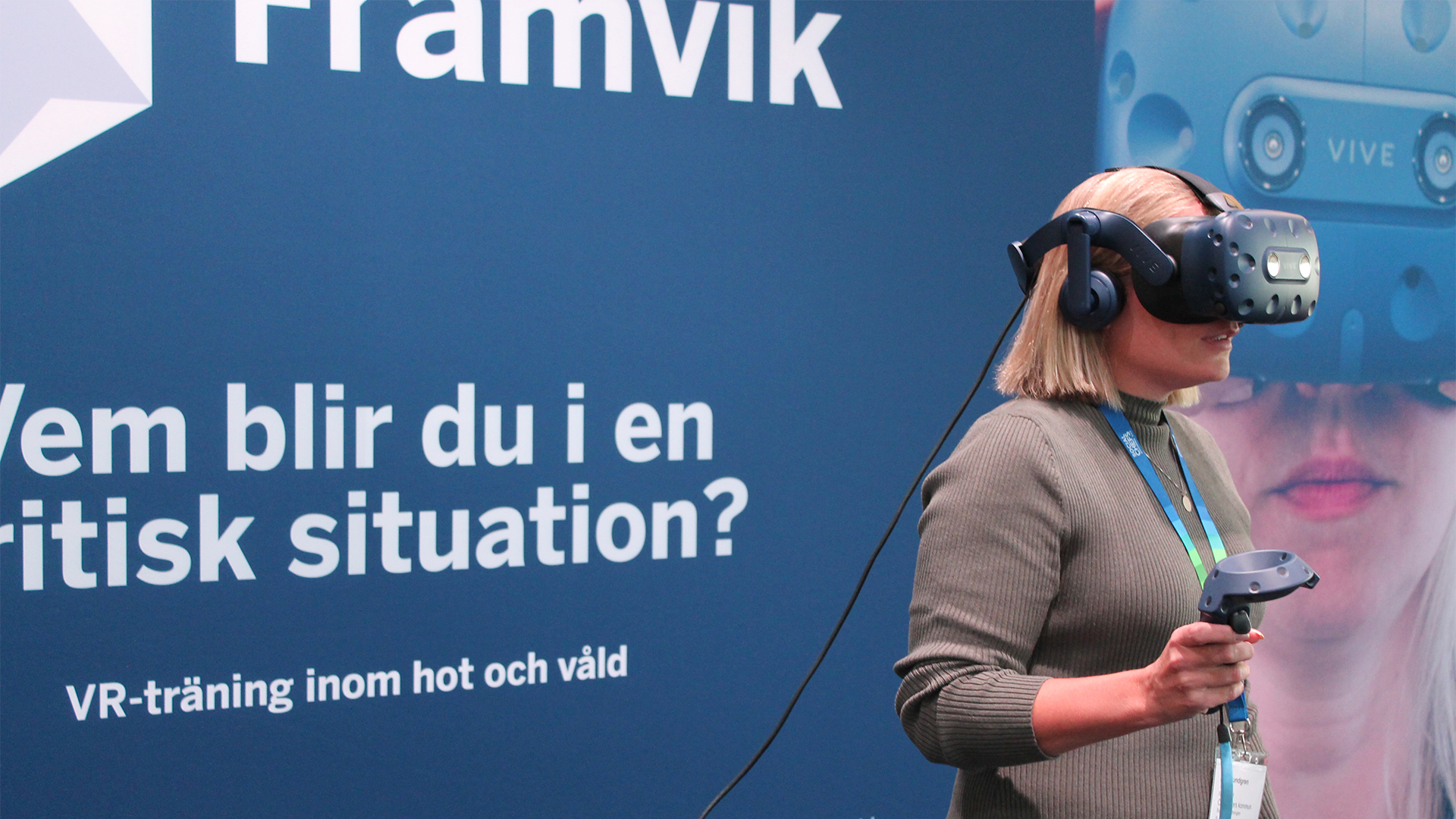 Maria Bauer is an award-winning violence expert who has spent 20 years training in approach towards aggression and conflict management. She has over 30 years of experience in the legal, care, and social care sectors. Alongside sociologist and criminologist, Axel Fors, she founded Framvik in 2017, an education and innovation company developing a ground-breaking VR software called D-escalator, which provides training in conflict management. With great interest from Swedish media and a great number of clients. D-escalator has also been appreciated abroad and tried out of the judiciary in New York and Austria. Framvik is no stranger to praise. Now seeing success within the Scandinavian Business Awards 2023, we learn more about this cutting-edge technology and how it can transform the workplace.
No one should have to encounter violence at work, however, reports of threats and violence against staff in social services are on the increase. According to the Lloyd's Register Foundation World Risk Poll, all five Nordics nations are among the top ten countries where individuals experience violence and harassment at work: Finland (48%), Iceland (42%), Denmark (42%), Norway (42%), and Sweden (37%). It is also found that women are more likely than men to experience abuse while working in customer-facing sectors.
While threats and violence in the workplace are unfortunately becoming more common, they can also be difficult to deal with. It can cause one's subconscious stress response to kick in, where they may freeze or feel a need to fight or escape. With the help of virtual reality, it is possible to retrain your brain to not fall into that fight or flight response, but to shut down the situation before it can escalate to violence. 
Maria Bauer has a behavioral science degree and is a trained advisor, author, and Sweden's leading lecturer in professional approach, treatment of threats and violence in the workplace. She has trained more than 200,000 people in Scandinavia, and for more than 20 years, has been trying to raise the question of how to treat and respond to violence and threat, and she has successfully got it on the agenda. Maria is an international violence expert and board member of UN Women Sweden, with Framviks' edtech solution, D-escalator being an extension of her lifelong work against violence.
She is joined at Framvik by co-founder, Axel Fors, who is a trained social worker with a Master of Arts in Criminology. He has worked at The National Board of Forensic Medicine and the Swedish Prison and Probation Service with violence prevention, as well as participated in various studies on the treatment of addiction and violent crime. Axel educates and supervises staff in fields such as social work, judiciary, healthcare, and welfare.
Axel and Maria have come together to create the innovative D-escalator technology, which is an entirely one-of-its-kind and pioneering concept designed for employees working in sectors such as police, social services, private care, education, retail, hospital, security, and more. Also playing an ongoing key role in the software's development is a team of 20 experts whose specialisms extend from medicine and behavioral science to criminology, law, and economics. This is in addition to civil engineers, 3D artists, and programmers. The mission for the whole team is to contribute to creating peaceful and inclusive societies, with an ultimate goal to end violence in the world.
"We are unlike every other edtech, putting knowledge about violence before everything else. Our VR training is the perfect solution to give the user experience-based knowledge. But the solution is not the most important thing; the mission is. We have ground-breaking technology that is unique."
D-escalator is an efficient and modern solution which enables staff to learn stress reduction and management in a completely new way, giving them the opportunity to practice and improve on their responses to threatening behaviour. The content of this training is based on science and Maria's long and successful efforts in preventing and managing conflicts, threats, and violence. Since the beginning, Framvik has placed great importance on research and development, working hard to ensure the solution is adapted to suit the client's needs each and every time. 
Together with the customer, Framvik can develop realistic scenarios that are relevant to the client's working environment and physical conditions, tailoring it to their employees' experiences of violence at work. D-escalator provides an evidence-based education that is engaging, effective, and appealing to all ages. When using this technology, the individual will enter an exact copy of their workplace and be met with an angry and frustrated avatar who will respond to their behaviour. If they act in the wrong way, for example, by behaving arrogant or disinterested, the avatar will become more aggressive. If the user is calm, then the avatar will also calm down. In the worst case, the VR situation can escalate and result in violence, or "game over".
One employee working in dementia care who has used D-escalator provided her feedback: "So fun to see and try one of Framvik's newest VR scenarios, where I, as an employee at a special residence for people with dementia diagnoses, meet the upset, confused, and most likely scared man, Tage, who does not want to have his bandage changed. "Practicing in realistic environments the scenarios that often arise when you meet people who are feeling stress and fear strengthens the ability to manage your own reactions and maintain a low affective response."
She continues, "I have now followed Maria Bauer and her team's work with the VR tool, D-escalator for several years and have seen many scenarios emerge that are created for different types of activities such as schools, social services, elderly care, and more. It is my firm belief that the more employees who can be equipped with the knowledge and resources to deal with people in a low affective way, the greater the chance of reducing the number of violent interventions. A win for all parties!"
Framvik's VR training can pose a variety of benefits for companies and create sustainable workplaces. By supporting staff to handle violent situations, it can make them feel more confident when it comes to diffusing them and enhance their customer service skills. It can enhance their expertise in what triggers and calms customers and patients. As a result of knowing how to deal with hostile behavior in the correct way, employees may feel happier to stay working at the company, and reduce the amount of sick leave they take.
A notable example of organisations making use of D-escalator has been a shelter for victims of violence. Framvik tailored the VR solution for use by private and public sector teams who come into contact with those experiencing domestic violence. This enables employees to gain increased knowledge and understanding in order to support individuals who need their help.
Meanwhile, Södertälje Hospital was the first hospital in Sweden to test D-escalator, an investment that it made to equip its staff for the increasingly demanding work environment, where relatives of patients have been showing threatening behaviour towards healthcare staff more and more. "It feels real and you get stressed," comments one nurse after having a go at using the VR technology, where she experienced being scolded by a man whose mother was being cared for.
Another exciting project developed by Framvik has been for Sahlgrenska University Hospital, with the purpose of training its adult psychiatry staff to deal with patients who become violent. Framvik's VR scenarios are used in several studies at the hospital in emergency healthcare, psychiatry, and forensic psychiatry.
D-escalator's capabilities go beyond dealing with abuse, though; it can be adapted to a range of different situations, including schools, supporting educational teams to spot mental illness in children and young people early on. Framvik runs an innovative VR project with Matthew School in the Norrköping municipality, the idea behind this being that teachers and teaching assistants can step into a realistic situation and learn how to identify when a student is struggling with their mental health and how to respond to them.
The client says, "A reason we have chosen to work with the Framvik scenario is that the employees can be educated on their own or in small groups in the workplace. VR training does not require special trainers who come out and maintain equipment and training. Very effective and resourceful."
Framvik's offering doesn't end with D-escalator, either. Maria also offers a variety of training options that can be adapted to the client's needs, including education on how to face threats and violence, an in-depth training package for the management of conflict and threatening behaviour, and training and advice for management on preventing conflicts and motivating employees to strive in the same direction. And those who have attended her lectures and training can't say enough positive things about their experience.
One person shares, "Maria is an amazing person. Knowledgeable, warm, funny, and smart. Her lectures on difficult subjects are enchanting. She challenges the subjects in an exciting way. Go Maria!" Another person comments, "Straight forward, honest, knowledgeable, absolutely fantastic! She inspired us to want to know more, to read more, to study more, to be better. Super!"
 Also pleased, someone else says, "Maria does not allow the difficulty of the subject stand in her way, and instead she uses her problem solving talents and throws herself straight into the heart of the problem, pinpointing the concerns and finding the solutions."
Ultimately, it's easy to see how Framvik has come to be named EdTech Company of the Year 2023 – Nordics, with its offering nothing short of extraordinary. Led by experts, Maria Bauer. Framvik couldn't be better positioned for success and for changing the working lives of so many by making them feel safer and happier while doing their job. We're excited about the inevitably bright future ahead of Framvik and what else it has in store for the world of VR!
For business enquiries, contact Maria Bauer from Framvik via email – [email protected] or on their website – Website: www.framvik.com