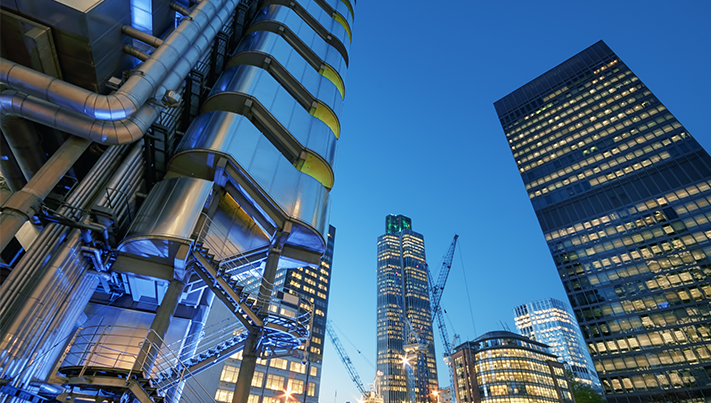 New Barclaycard analysis finds that a one percentage point increase in public transport use is associated with 1,400 more businesses reaching the scale up phase over a 12-month period
Access to imports also boosts scale up numbers – while increased inflation, competition and overheads have a negative relationship with the number of scale ups
Today, a pool of fewer than 37,000 UK scale ups contribute more than £1.3 trillion to the UK economy
The majority of business leaders believe they should trade overseas to secure growth
New analysis from Barclaycard, which processes nearly half of the nation's credit and debit card transactions, has identified key external factors impacting the number of scale up companies in the UK – defined as businesses with at least 10 employees and average annualised growth of 20 per cent or more a year over the last three years[1].
The study, carried out by the Centre for Economics and Business Research (Cebr), found that a one percentage point increase in public transport use would result in 1,400 more scale ups over a 12-month period. A good public transport system means scale ups can access talent based further away from their company's offices, and with Wi-Fi increasingly available on public transport, this commuting time can be used productively.
Public transport is followed in importance by access to global markets, measured in terms of imports. Household income also ranks highly, with scale ups clearly benefitting when consumers have greater spending capacity.
The table below details the critical success factors with a strong impact – both positive and negative – on the number of scale ups in the UK, as identified through the Cebr analysis.
Relationship between critical success factors, and number of scale ups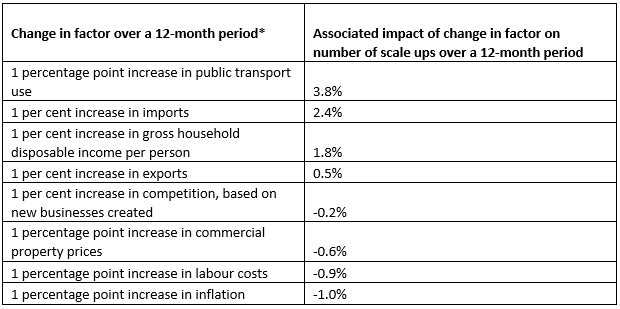 * Changes in factors that are measured as a percentage figure in data sources (for example, inflation is currently 2.1%) are described as 'percentage point' changes, while changes in factors that are measured as whole numbers (for example, the number of new businesses created) are described as 'percentage' changes.
Today, businesses that are scaling up are a key contributor to the country's economic success. A pool of fewer than 37,000 scale ups currently contribute more than £1.3 trillion to the UK economy[2]. To put this in context, the combined annual turnover of the UK's 5.7 million SMEs is £1.9 trillion[3]. The new analysis highlights the opportunities and challenges in the wider economic landscape that could affect the number of businesses reaching the scale up stage.
The opportunity overseas
Additional research from Barclaycard found that six in ten (61 per cent) business leaders believe the UK is a good place to be a scale up business – however, there remain a number of core challenges. The strong relationship identified in the Cebr analysis between scale up numbers and access to global markets is echoed in the research findings, with the majority of scale up business leaders looking overseas to expand.
Six in ten (62 per cent) believe scale up companies need to trade with markets outside the UK to secure business success, while a similar proportion (63 per cent) say companies in this phase of the business lifecycle need to expand their operations to markets outside the UK in order to grow.
Rob Cameron, CEO, Barclaycard Payment Solutions, said:
"Scale up businesses are critically important to the UK economy, but in today's uncertain climate, more than ever they face a range of challenges such as access to talent, financing, and infrastructure. As our analysis shows, even incremental improvements in the business landscape could have a significant, positive impact on business growth.
"As the payments partner to many successful businesses, we see that when companies move from start up to scale up and beyond, their needs and priorities change. For example, those looking to expand through overseas trade may find they need to comply with different regulations or accept international payments, and for those with growing transaction volumes, it may be time to upgrade to a more reliable, secure and customer-friendly payments system.
Nina Skero, Director, Cebr, said:
"Critical success factors for scale up growth are more complex than many might assume. While some relate to the direct cost of doing business – for example, inflation, labour costs and commercial property prices – others illustrate the importance of the 'big picture' in gauging growth prospects for businesses.
"For example, the analysis shows that when consumers have more money to spend, there is an associated increase in the number of high-growth businesses. Similarly, public transport emerges from the study as a really important factor that makes a substantial difference to the number of companies achieving high growth rates."
In 2016, Barclays joined forces with the Cambridge Judge Business School to create the Barclays Scale Up UK Programme – a bespoke, hands-on training programme to help the management teams of high growth businesses scale up. Barclays also works in partnership with the ScaleUp Institute, helping to tackle the key challenges that the UK's scale ups face: access to talent; access to markets; building leadership capacity through local support; finance; and infrastructure.
[1] A 'scale up business' is defined as a company which has seen average annualised growth of at least 20 per cent a year in last three years with 10 or more employees at the start of the period, according to the OECD, with growth being measured by turnover or employment.
[2] The ScaleUp Institute, March 2019 http://www.scaleupinstitute.org.uk/number-of-scaleups-in-uk-rises-but-action-is-still-needed-to-address-regional-disparities/
[3] The ScaleUp Institute, March 2019 http://www.scaleupinstitute.org.uk/number-of-scaleups-in-uk-rises-but-action-is-still-needed-to-address-regional-disparities/
There are 5.66 million SMEs in the UK, according to House of Commons Briefing Paper Number 06152, published 12 December 2018 https://researchbriefings.files.parliament.uk/documents/SN06152/SN06152.pdf