LinkedIn was initially designed as a social media platform where professionals can network and find employment opportunities. However, almost two decades later, it has morphed into a global marketing tool with endless networking opportunities for businesses and individuals.
Now, many European businesses may feel a bit discouraged by the fact that a huge chunk of LinkedIn's traffic comes from the US (around 31%). However, LinkedIn has around 160 million users in Europe (out of a total of 800 million members worldwide) and the UK is its second traffic source in terms of volume (around 6%).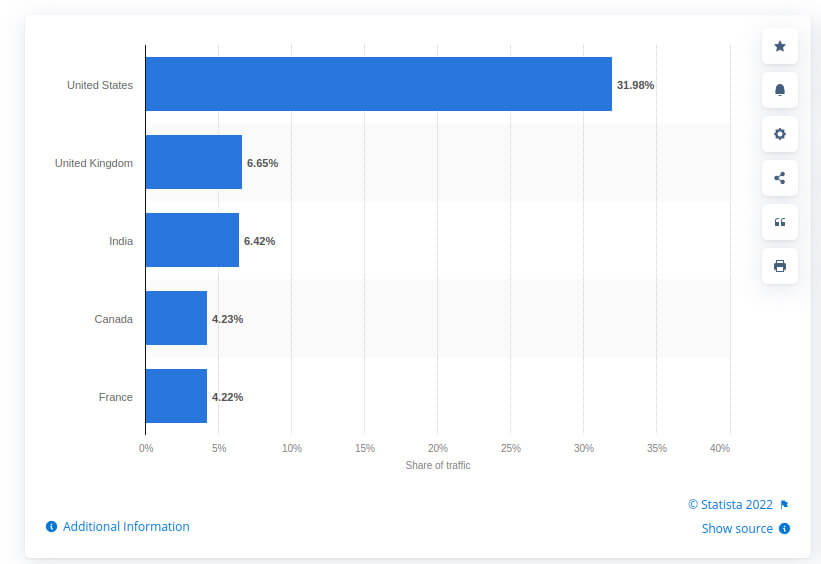 Source: Statista, Regional distribution of desktop traffic to LinkedIn.com as of June 2021, by country
This data shows that businesses in Europe and the UK can also use LinkedIn as a marketing tool, as long as they design an effective strategy.
Moving forward, we'll mention some of the most successful and common LinkedIn marketing strategies that yield results:
1. B2B Lead Generation
Did you know that the average LinkedIn user is actively looking for professional-oriented content and business opportunities? This means that, unlike Instagram or Facebook where users rarely go for business, LinkedIn is the perfect online place for finding interested professionals.
This gives B2B marketers a huge advantage as they know a big part of the audience is actually looking for something, not just scrolling for entertainment. Now, all you have to do is identify the ones that work for your type of products and/or services and get in touch.
That's easier said than done and without a clear strategy in mind, it's rather easy to get lost in the sea of users. Luckily, nowadays you can use automation to do the scouting and initial contacts with minimal effort on your part.
Quick tip: Use Salesflow as a tool for hot lead generation on LinkedIn and work with the data for increasing sales or brand awareness.
2. Check Your Company Page (Presentation Matters)
You can't go up to LinkedIn users and ask for a chat or meeting without a proper company page that represents your brand and clearly states your interests as a business. Well, you can, but it will not go well.
Just like with any other social media platform, your business needs a professionally-designed LinkedIn page. In fact, it is even more important on LinkedIn, where you network with other businesses and ask for their collaboration.
Here are some of the must-have elements of a well-designed LinkedIn page:
Information about your products and/or services, so everyone can understand your object of activity; Info on location, headquarters, online activity (website and other social media channels), employees, and so on; Visual identifiers such as logo, brand image, colours, and more; A clever description that conveys important details about your offer and interests; Other details you consider prospective business partners and customers should know.
Quick tip: Your company page sits at the base of your brand representation on LinkedIn, so it should be the very first strategy you implement.
3. Content Optimization & Strategy
Yes, SEO is everywhere! However, this time, it's an optimization designed for LinkedIn and anyone looking for specific keywords on the network.
Starting with your company page and ending with any article or post you make, everything should be built around keywords, search intent, and relevance for the reader. Also, the same old rules apply to content structure and design when it comes to ease of reading.
Even on LinkedIn, people are scanning pages and articles for useful information before they decide to read or get in contact.
Plus, it's important to have a well-designed content strategy that keeps the audience engaged. This usually means uploading relevant and useful content that piques the interest of readers and catches Google's attention during content indexing.
Quick tip: A solid LinkedIn content strategy will help your Company Page go up in search results.
Wrap Up
Whether you use it for lead generation or just networking, LinkedIn is a powerful platform that should not be ignored. Also, there is a lot to learn from competitors and successful marketing strategies so make sure you pay attention to all the relevant trends.
In today's day and age, a business will struggle to survive without a reliable and up to date online presence on social media channels. That's because most of the target audiences use these channels for connection and entertainment, which is a fantastic opportunity for anyone willing to follow the trend.