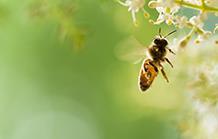 MEPs have overwhelmingly rejected an attempt by a UK Conservative MEP to oppose a full ban on neonicotinoid pesticides that have been linked to bee decline.
43 MEPs on the Environment Committee voted against the proposal by Julie Girling MEP, which spoke out against plans by the European Commission to extend current restrictions on three neonicotinoid pesticides to all crops. Eight MEPs backed the motion, with 7 abstentions.
Friends of the Earth nature campaigner Sandra Bell said:
"We're delighted MEPs are backing our bees and have overwhelmingly rejected this attempt to oppose a complete ban on bee-harming neonicotinoid pesticides.
"There is mounting scientific evidence supporting the European Commission's proposal to extend the ban to more crops, and this should now be backed by national governments.
"Michael Gove must demonstrate his environmental credentials by backing an extension of the ban – and committing to keep it post-Brexit."
Friends of the Earth Europe is the largest grassroots environmental network in Europe, uniting more than 30 national organisations with thousands of local groups.