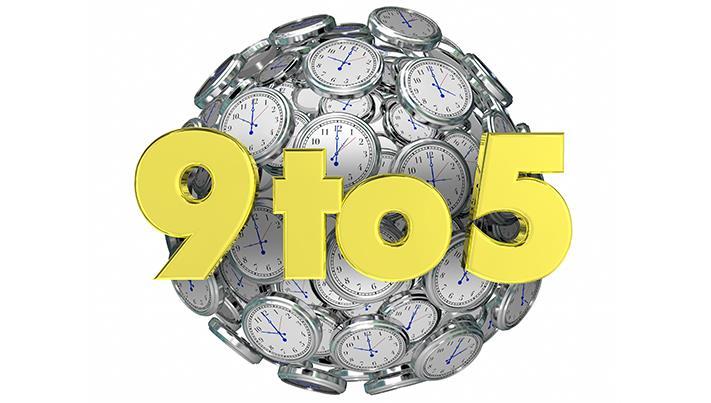 The traditional 9-5 working day is thought to date back to the 19th century when the industrial revolution drastically changed the employment landscape. As this landscape continues to grow and expand with a shift from physical to technological jobs, is the 9-5 still relevant in today's society?
In the fast paced 21st century where there is increasing emphasis on looking after your mental health, a healthy work-life balance is more desirable than ever. A YouGov study found that 61% of people thought flexible working hours were a top criteria for choosing jobs.

The eight-hour working day is also having a large impact on our health. A study by Paymentsense found that 59% of workers believe their working hours have an impact on simple tasks such as attending important GP or dental appointments. With missed appointments costing the NHS £216 million a year, the 9-5 is not only detrimental for our health, but also for the wider economy.

The UK workforce may be increasingly choosing to work flexibly and in a freelance capacity, but payment structures within the gig economy remain somewhat outdated with many people having to wait weeks and even months to get paid for the work they have done. These stunted and irregular payments lead to a great difficulty in fluid budgeting for the freelance workforce whether they are Uber drivers or highly skilled IT consultants.
Research from Powwownow has revealed that the option of flexible employment is more appealing to the majority of workers, with three quarters of UK employees saying that the option of working flexibly would make a job more attractive and nearly a third of UK employees saying that a third would prefer the option of flexible working hours than a pay rise. The rise in flexible working is beneficial to everyone. In 2016, the IPSE reported that freelancers contributed £119 billion to the national economy.
In today's culture where traditional gender roles are very much considered outdated, more families are in a situation where both parents are working. In these situations, it is hard and costly for both parents to work full days at the same time and families often rely on third parties to provide childcare. Many parents are now turning to a freelance lifestyle so they can both work and look after their children. A YouGov study found that four in five parents and students said flexible working would help them juggle family and studying commitments.
Another group who are increasingly looking to be employed flexibly are those who have recently entered a profession or who are soon to be entering one. The same research from Powwownow found that 70% of millennials would like flexible working options. This is a stark difference when compared to the over 55 age category, of which only 47% said that they would prefer to work flexible hours. The clear preference for younger people to work flexibly is demonstrated by research from Instant Offices who found that the number of freelancers aged 26-29 has risen 66% in the past decade.
ETZ Payments is looking to revolutionise the way that highly-skilled freelancers in the gig economy get paid by driving down transaction costs that many employers face and introducing daily payments.
For freelance workers who are being hired through an agency, transaction fees are a substantial burden. By using 21st century technology that reduces or eliminates these fees, ETZ Payments offers flexible workers faster payments, making it easier for them to plan their finances and also making the gig economy a viable option for the critical mass of society.
With the current payment systems in place, many freelance workers are getting paid incorrect amounts and some are getting paid weeks after they have actually completed the work. This is dissuading people from working flexibly, which is damaging our economy, and is pushing those that do work in a freelance capacity towards debt with many freelancers relying on payday loans to survive in between jobs.
If daily payments were available to freelance workers, both low-skilled workers like taxi drivers and couriers and high-skilled workers such as IT and finance consultants, it would allow these people to budget with more ease and would make the freelance life a viable option for many more workers.
By 2025, millennials will make up 75% of the UK workforce and if the majority of those are looking to work in a freelance capacity then the landscape of how businesses need to work could dramatically change over the next few years. It is in UK businesses' best interests to address and adapt to the wave of freelance and flexible working in order to attract and retain the best talent.