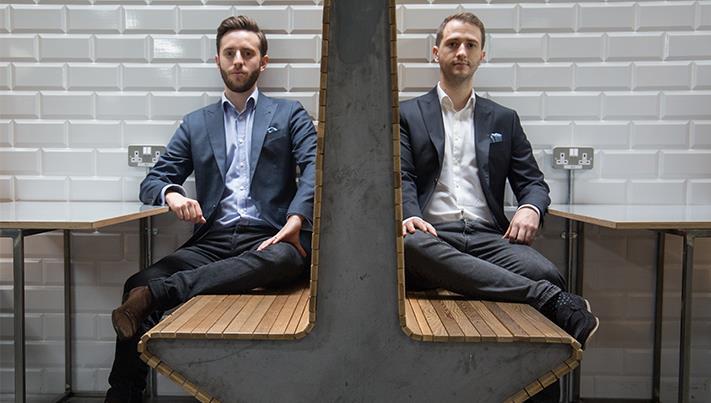 The Drop (www.thedrop.co), a London-based startup which allows men to purchase custom-made clothing on demand has raised £500,000 in seed funding in a round led by Sir John Hegarty's The Garage Soho.
Co investors in the round included angel Paddy Byng – former SVP of Marketing at Ralph Lauren and former CEO of Smythson and Linley.
The Drop was founded in 2016 by Jonathan Kruger, a former clothing industry executive who oversaw Chinese production for some of the world's biggest retailers and Stephen Stroud, a senior software developer with a background in disruptive VC backed startups.
On founding the business, Kruger and Stroud wanted to tackle the fact that traditional retail models concentrate on producing large volumes of garments in standardised and ill-fitting sizes. This has meant that customers are ultimately left having to "make do" with whatever they can find off-the-rack. The Drop's technology enables the customer to get exactly what they want, made to fit them perfectly and have them delivered anywhere in the world in under three weeks. All this is offered at a fraction of the price they would pay for designer labels on the UK high street. Users of the service provide their measurements, a photograph and the experienced team at The Drop HQ can create the suit, providing a constant point of contact along the way, not unlike a visit to a tailor, but with the convenience of shopping from home.
As well as addressing fit, The Drop is also determined to make a difference to the other issue within menswear and the fashion industry as a whole – sustainability.
In Jonathan's previous role as a clothing industry executive, he saw first-hand the amount of destruction the fast fashion industry wreaked on the environment. Wanting to make a change to the environmental damage was a key factor in forming the idea that would eventually become The Drop. By manufacturing garments on demand, they are able to avoid the huge level of waste produced by traditional clothing retailers, which often ends up in landfill or going to the incinerator. The suits are crafted from a light weight Australian wool, a source material that is both sustainable as well as high quality.
With over 1,700 suits sold so far, and a steadily growing loyal following worldwide, the highly customisable made to order model is clearly paying off. Jonathan Kruger comments "This latest investment marks the next step in our journey to make custom-made menswear available to all at an affordable price – we want to offer a better product, in a better fit than they could access on the UK high street."
Stephen Stroud adds "We want to give our customers access to perfectly fitting clothing and do so in a way which is sustainably achieved through the use of technology. For us it's totally unacceptable that clothing is the world's second largest industrial polluter and we want to change that."
Sir John Hegarty comments "The Garage team are excited to back Jonathan and Stephen and their talented team in building the future of menswear. This fundraise underlines the huge future growth potential of The Drop and the opportunity it represents to make better fitting clothing, more sustainably."